Trick or treat!
I went trick or treating for the first time this Halloween. I dressed up as a koala bear and Mommy was a tree (very appropriate because of the way I cling to her). We went to four houses in a-Ma's (Daddy's Mommy) neighborhood. What fun! I was intrigued by all the lights in front of the houses and pulled Mommy around to go see. I eagerly climbed up the stairs myself, and when the residents opened the door, I took a couple of steps into the house to see if the inside was as exciting as the outside. After I got my candy, I ran around exclaiming "How-ween! How-ween!" (Halloween). I even learned how to say "M&M" even if Mommy didn't let me eat any. "Halloween" has become my new toy, as I sort and resort the candy into different bags.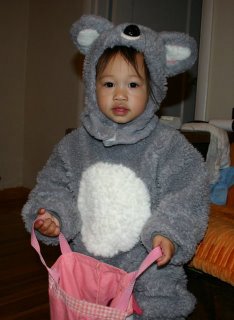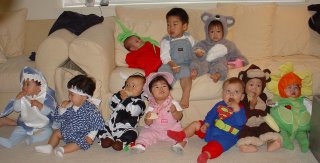 All of my friends dressed up for a Halloween party the day before. Go
here
for more Halloween pictures.