Saturday, October 22, 2005
First weekend away
Given all the changes in life that occur with having a baby, it's important to take care of yourself and your relationships. That means spending time with your partner the way you used to so you don't feel like your old life has completely disappeared. So Rich and I went away for a night without Isabella for the first time. I was so ready for a weekend away, that I barely worried about Isabella. I knew that generally she would be fine. She is at the age that she understands that I will come back if I leave. So if she cries, I know that it is because she misses me, not because she is panicked that I've disappeared forever. Knowing that she is mature enough to handle this makes it easier to accept her crying. What I did worry about was how she would treat my mother in law, and felt bad about subjecting my mother in law to her crying. Isabella can be quite a handful!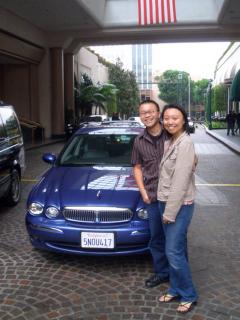 Rich surprised me with a trip to LA where we stayed in a great suite at the Regent in Beverly Hills (of "Pretty Woman" fame). We had a delicious meal at
Matsuhisa
(Nobu's first restaurant) and had the omakase (amazing). The cool thing is that
Mark Wahlberg
sat 2 tables away from us! Totally thrilling as he is on my Top Ten Hottie list. He was there with his 2 year old daughter and girlfriend (?) and it is touching to know that no matter how famous you are and how much money you have, a kid only cares about what's in your heart, and you still have to be a great dad by loving them and making them laugh. He looked like just a normal dad trying to entertain his daughter by making shadow puppets on the wall. Ah yes, parenting - the great equalizer. Too bad Isabella wasn't there; we could have had an excuse for a playdate with his daughter! :)
BTW, Mark Wahlberg was our second celebrity siting of the trip. Former SF mayor Willie Brown was on the flight down!
We then went to a concert at the Hollywood Bowl. It was
Queen
, one of my favorite bands!! Oddly enough, I hated this band until I lived in
Poland
where all the vodka I drank warped my brain and I developed quite an appreciation for the band.
Bottom line, it was a really fun trip away. Rich and I got to spend some quality alone time together, and it was just what we needed. Isabella did
great
with my mother in law, but for a 20 minute crying jag at bedtime looking for me. Why shouldn't she enjoy time with Grandma? I came home and found her eating potato chips and doritos in front of the TV, all things that I don't let her do with me!
The best part of the weekend was that Rich left his laptop at home, so I didn't have to play second fiddle to work or a computer. I could tell he was going through computer withdrawal, but guess what - he survived! And I was a much happier wife for it.
Thursday, October 20, 2005
Here's my sweetie
OK, I know that this is a corporate PR photo, and they put makeup (!? well, loose powder) on him, but I think it's a nice picture of Rich so I'm going to be the proud wife and share.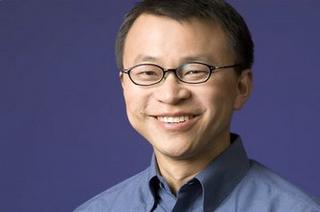 Monday, October 17, 2005
Be gentle to your skin
I found this useful article from Paula Begoun's
Cosmetic Cop
site which I found so informative that I had to copy it here:
"Irritation and inflammation are really really bad for skin. We do many things to our skin in an effort to improve it yet often use an assortment of irritating skin-care products. Everyday assaults such as unprotected sun exposure, splashing the face with hot water, applying skin-care products that contain irritating ingredients, and on and on, generate an irritant or inflammatory effect. This results in the skin's immune system becoming impaired, collagenase takes place (the breakdown of collagen), and the skin is stripped of its outer protective barrier.
For the overall health of your skin, anything you can do to treat it gently is a very good thing. Treating skin gently encourages normal collagen production, maintains a smooth and radiant surface, and helps skin protect itself from environmental stressors.
Aside from diligent sun protection, using gentle, non-irritating skin-care products is part of how you can achieve the best daily and long-term skin care results possible—so you can have the skin you've always wanted.
With the goal being to eliminate anything that unnecessarily irritates and inflames skin, the following is a list of typical skin-care culprits that are not helpful and are potentially damaging to your skin. The skin can react negatively to all of the following products, procedures, and ingredients.
Irritating Skin-Care Steps and Products to Avoid:
• Overly abrasive scrubs (such as those that contain aluminum oxide crystals, walnut shells, or pumice)
• Astringents containing irritating ingredients (alcohol and menthol being the prime offenders)
• Toners containing irritating ingredients (alcohol and menthol being the prime offenders)
• Scrub mitts
• Cold or hot water
• Steaming or icing the skin
• Facial masks containing irritating ingredients (watch out for fragrant essential oils and polyvinyl alcohol)
• Loofahs
• Bar soaps and bar cleansers
Irritating Ingredients to Avoid:
(These are of greatest concern when they appear in the beginning of an ingredient list.)
• Alcohol or SD alcohol followed by a number (Exceptions: Ingredients like cetyl alcohol or stearyl alcohol are standard, benign, waxlike cosmetic thickening agents and are completely nonirritating and safe to use; SD alcohols are not considered a problem when they are used in minute amounts, as is the case with some ingredient mixtures.)
• Ammonia
• Arnica
• Balm mint
• Balsam
• Bentonite
• Benzalkonium chloride (if it is one of the main ingredients)
• Benzyl Alcohol (if it is one of the main ingredients)
• Bergamot
• Camphor
• Cinnamon
• Citrus juices and oils
• Clove
• Clover blossom
• Coriander
• Cornstarch
• Essential Oils
• Eucalyptus
• Eugenol
• Fennel
• Fennel oil
• Fir needle
• Fragrance (may be listed as "Parfum")
• Geranium
• Grapefruit
• Horsetail
• Lavender
• Lemon
• Lemongrass
• Lime
• Linalool
• Marjoram
• Melissa (lemon balm)
• Menthol, Menthyl Acetate, and Menthyl PCA
• Mint
• Oak bark
• Orange
• Papaya
• Peppermint
• Phenol
• Sandalwood oil
• Sodium C14-16 olefin sulfate
• Sodium lauryl sulfate
• TEA-lauryl sulfate
• Thyme
• Wintergreen
• Witch hazel
• Ylang-ylang
Many of these ingredients are extremely common, showing up in skin-care products for all skin types. And because many of these are recognizable, "Natural/Botanical" names, consumers often perceive them as "good" ingredients. Ingredients like camphor, menthol, mint, alcohol, and phenol are sometimes recommended because they are a type of anti-itch ingredient known as counter-irritants. The theory works like this: When your skin itches, the nerve endings are sending messages begging you to scratch. If you place these irritating ingredients over the area that itches, the nerve hears the irritation message louder than it hears the itch message and interprets this as a reason to stop itching. That reasoning is fine if minor, sporadic, occasional itching is your problem. If it is not and those ingredients are present in skin-care products meant for everyday use, they introduce a constant, irritating insult to the skin and cause dryness, rashes, increased oil production, redness, and breakouts. None of those side effects are attractive.
Skin doesn't have to hurt, tingle, or be stimulated (even a little) to be clean. In fact, a simple indicator of irritation is if the skin tingles, it is being irritated, not cleaned. The major rule for all skin types is if a product or procedure irritates the skin, don't use it again.
Exceptions to the rule: Because of the long-term benefits certain types of ingredients can provide skin, tolerating a little initial, though not long-term or serious, irritation may be necessary. For example, some stinging or tingling may occur when you initially begin to use a pH-correct alpha hydroxy acid or beta hydroxy acid product for exfoliation, a benzoyl peroxide product to battle blemishes, topical Retin-A, Renova, Tazorac azelaic acid, or Differin for either acne or wrinkles, or use Metrogel, Metrocream, or Metrolotion for rosacea. You may need to reduce frequency of application to once a day or every other day, or reduce how much you use at any one time. If the irritation persists for more than a few weeks or worsens with repeated use, then you should stop using it."
Sunday, October 16, 2005
Welcome to my world
This is classic:


A father came home and found his three children outside, still in their pajamas, playing in the mud, with empty food boxes and wrappers strewn all around the front yard.

The door of his wife's car was open, as was the front door to the house and there was no sign of the dog.

Proceeding into the entry, he found an even bigger mess. A lamp had been knocked over, and the throw rug was wadded against one wall.

In the front room the TV was loudly blaring a cartoon, and the family room was strewn with toys and various items of clothing.

In the kitchen, dishes filled the sink, breakfast food was spilled on the counter, the fridge door was open wide, dog food was spilled on the floor, a broken glass lay under the table, and a small pile of sand spread by the back door.

He quickly headed up the stairs, stepping over toys and more piles of clothes, looking for his wife. He was worried she may be ill, or that something serious had happened. He was met with a small trickle of water as it made its way out the bathroom door. As he peered inside he found wet towels, scummy soap and more toys strewn over the floor.

Miles of toilet paper lay in a heap and toothpaste had been smeared over the mirror and walls. As he rushed to the bedroom, he found his wife still curled up in the bed in her pajamas, reading a novel.

She looked up at him, smiled, and asked how his day went. He looked at her bewildered and asked, "What happened here today?"

She again smiled and answered, "You know every day when you come home from work and you ask me what in the world did I do today?"

"Yes," was his incredulous reply.

She answered, "Well, today I didn't do it."

Saturday, October 15, 2005
East Bay playgrounds
Now that Isabella is a full toddler running around everywhere, a whole new world has opened up to her. We've been checking out all of the East Bay playgrounds with friends. Here are my favorite playgrounds in the order of preference with my review of them:

Berkeley Totland on Virginia & McGee has the best variety for young toddlers of all ages (swings, sand, push toys, slides, water, etc.), including a large enclosed area with grass in the shade and sun for the Moms and younger infants. I also like it b/c even if it gets crowded, it is big enough that you don't feel like you're on top of each other. You can set up some blankets and have a picnic.

Willard Park in Berkeley on Derby & Hillegass has a huge grass area, and there is a smaller enclosed tot play area. It's got swings, push toys, sand, slides. The playground tends to get crowded and although there is a small patch of grass within the enclosed area, it would be crowded for a group of moms to hangout. The huge grass area outside the enclosed area would be nice if we wanted to have a picnic/BBQ with a playground close by, but it is not enclosed and at the far corners of the park you might see an occasional homeless person.

Montclair Park has a cute "waterfall" with stepping stones that Isabella loves walking around back and forth and some geese. Its enclosed tot area is rather small, and because it is all sand there are no push toys. Its big kid playground is in a larger open area and has swings. The park is not as comfortable if you go with a group of Moms who have kids of varying ages because you'd be sitting on a bench or sand or standing/walking most the time. You have to go to a separate area to sit in a grassy spot.

San Pablo Park is in a potentially weird spot in Southern Berkeley off Ashby and San Pablo. Sounds like it would be scary, but it is well maintained, clean and has an enclosed tot area with a ring of grass around it so you can have a group for a picnic. Outside the enclosed area are BBQ pits. I'd advise this park when all the kids are walking b/c they don't have swings or push toys, only regular play structure, slides… although they do have a very cute play train and the sand is very clean.

FROG is newer and in Rockridge. There are two playgrounds. The one dedicated to tots 2-5 has new play structures, shredded bark, and a small sand area. It is under trees so is fairly shaded. The park is too small for a group though; it doesn't have swings and it doesn't close off. There's always a lot of nannies there.

Chabot Elementary has two play areas, one of which is enclosed, a big open paved area, and a grassy spot. So it is generally a fine place to hang out except you generally find older kids there.

Linda Park in Piedmont has sand, swings, and a lot of push toys but the toys tend to be old and broken. But it's a cute little park in a good neighborhood.

Piedmont Park has a small wooden playground area, a fountain, lots of grass so kids have lots of space to run around.

The playground at the school in Piedmont is mostly for older kids but it has a wide open paved area to run around in.

Friday, October 14, 2005
Go away, eczema
I haven't been taking good care of my skin. Alas, the life of a busy mom involves rushed showers, skipped after-shower moisturizing routines, insufficient time to drink water, lots of hand washing without the time to dry them properly, etc. My skin had gotten out of control, but now I finally have time to deal with what my dermatologist diagnosed as "moderately severe" eczema. He says that it is not an uncommon problem among busy Moms due to too much hand washing and putting the care of others above themselves. So he's attacking it from all angles; much of it is gone, some of it is still stubborn, but so far so good...
Diet, sun exposure, stress, extreme temperature changes, and/or alcohol consumption can stimulate skin issues. But everybody's composition is different, so you have to be smart about your own body and do your own detective work. After many dermatologist visits, here is what I learned about how to resolve and prevent eczema:
Figure Out What's Causing Your Eczema
- Think about what new products you may be using (shampoo, lotions, etc.) that may be irritating your skin. Even products that claim they're hypo-allergic or fragrance free may have irritants. These labels are not regulated. You have to look at the product ingredients (or ask your dermatologist) to really know for sure.
- Consider any new foods you may be reacting to. Try to figure out what you're allergic to so you can avoid it and it won't cause you to itch more. Food allergies are typical so avoid common triggers. The following foods make up 90% of allergic reactions: eggs, milk, peanuts, wheat, soy, fish, shellfish, and tree nuts.
- Do not use any products that have fragrance or other ingredients that can irritate the skin. (
Vanicream
is a good one.)
- When dealing with an itchy rash, avoid all seafood until resolved. Chinese medicine says that you should avoid all "heaty foods" if you have skin problems, such as seafood (esp. shellfish), mango, pineapple, fried foods, oranges and orange juice, etc.
- Once your rash is resolved, you can slowly reintroduce a new food/product one by one until you isolate what caused your rash.
Calming the Eczema
- Once you scratch the skin and produce a rash, the rash can take on a life of its own even if you're no longer exposed to the irritant. Cut out any potential irritants (new products/foods) until you have resolved your rash. Once your skin is clear, you could more easily isolate your irritant. My allergist suggests putting on the hydrocortisone one week after the rash is gone to make sure it's gone. Moisturize every chance you get (2-4 times a day)
- Steroid creams aren't effective if you use them all the time. Try to use it "5 days on, 2 days off" to give your skin a break. Some steroids are better with a "one week on, one week off" regime - ask your dermatologist. I've been working my way down the
topical steroids
list.
- Steroid creams are meant to be used once in a while with a flareup, not all the time. If you are using it all the time, you need something stronger. This
site
is helpful in discussing how best to apply your medicine.
- You MUST prevent the itch-scratch cycle which makes things worse, so if you can't control your itch, take an antihistamine like Zyrtec or Benadryl. If you have a facial rash like I did, take an antihistamine if your seasonal allergies cause you to rub your eyes and face.
- Keep your fingernails short to prevent the scratching from breaking the skin.
- After you put your treatment on, wait 30-60 minutes before using moisturizers so as not to dilute the medicine.
Prevention:
- Prevent dry skin which starts the itching by moisturizing every chance you get, i.e. every time you wash your hands if that's your problem area. Do it within 3 minutes of washing to "lock in" the moisture. Leave moisturizer all over the house so you don't forget!
- Pat your skin dry and make sure you dry every spot. Water weakens the skin and causes eczema flareups. This applies to sweat also.
- Slab on the moisturizers on high areas of friction, like knees, elbows, strap areas where you carry diaper bag, Baby Bjorn, etc. Eczema on the knees often occurs because you're always on your knees with a small baby.
- Use a mild laundry detergent or soap flakes, and rinse your clothes twice.
- Take short lukewarm baths or showers, using mild soap (like Dove or even Cetaphil).
- Be careful to watch the temperature of water, since extreme temperature fluctuations can cause a flare-up.
- Avoid any scrubs and aggressive exfoliants.
- Wear gloves when you can if you have a hand rash, or use a lotion sealant like Aquafor or
TheraSeal
- Use a humidifier during dry weather (esp. winter when the heater dries the air).
- Wear cotton or soft fabrics — avoid rough, scratchy fibers and tight clothing.
- Avoid rapid changes of temperature and activities that make you sweat.
- Anti-bacterial soap often aggravates eczema.
- Reduce the stress in your life. (including anger, embarrassment and fright. These stimulate flushing and trigger a flare-up)
- Exercise is good at relieving symptoms of stress. However, make sure the temperatures are moderate and you maintain hydration while working out. Also make sure you pat your sweat dry because moisture from your sweat can cause flareups too.
- Drink 8 glasses of water daily.
- Avoid caffeine, excessive sugar, alcohol and cigarettes. These stimulants are vaso-dilators, and can stimulate a flare-up.
- Change your towels and face cloths after every use to prevent bacteria from growing and being reapplied to your skin.
Wednesday, October 12, 2005
Sage village advice
My Mom comes from a small village in the Hoi Ping area in Guangzhou Province, so she is still very traditional. I've gotten lots of "Chinese Village wisdom" from her regarding baby care. Much of it is contrary to my doctor and modern research, so some of it drives me nuts. But she insists that she is right because "the Chinese have done it this way for thousands of years". Some of the advice is fine, but others are more controversial. For those who are interested in the advice, read on:

- Don't hold the newborn baby all the time because you will spoil him/her
- If a baby is tired, he/she will just fall asleep naturally on their own without you doing anything; if they don't do this, you have already spoiled your child by carrying them too much
- If the baby really was tired, they would just sleep and not wake up, so if they wake up (even in the middle of the night?!), they're not tired so get them out of bed
- Don't let the baby cry it out - DO SOMETHING!
- Don't nurse a sick child; they don't need it and a sick child has never starved
- If a sick child has a fever, rub his/her forehead with a hard boiled egg to bring the temperature down
- If your kid gets sick, it's because they got cold from not wearing enough clothes
- Minimize going out with your child until they're 2 or 3 years old because they'll too easily get sick
- Mentholateum is the best to help most pains and ills
- Put dried scallops in your child's rice porridge to make them fatter
- Feed your baby salted fish to improve their appetite
- You must bathe your baby everyday

...and the piece of advice that makes me sigh the most:
- Don't listen to what your doctor says! How many kids have they taken care of???!! Your mother knows best, and I'm giving you thousands of years of Chinese wisdom!

Saturday, October 01, 2005
Oyster picnic
We love going on oyster eating orgies up at
Tomales Bay Oyster company
(the first place north of Point Reyes Station, about 3-5 miles north). Have a picnic with inexpensive oysters right at the farm overlooking Tomales Bay, surrounded by lots of Hispanic families (one time there was an improvised mariachi band!) and Asian youths with an appreciation for cheap yummy seafood. Read about it
here
. Warning - don't go nuts and eat 25 oysters EACH like we did once with Aileen and Jon. You won't want to eat oysters for a VERY long time after that!
Driving instrux from Point Reyes Station
* Drive north
* Go past the small hamlet of Marshall, where there's a seafood restaurant
* It'll be an entrance to the dirt parking lot on the left side
* If you end up at the Hog Island Oyster company, you've gone too far
Stuff to bring (last market is at Point Reyes Station)
* Cash
* Shucking knife, gloves
* Charcoal & lighter
* Condiments -- horseradish, lemons, tabasco, cocktail sauce
* Dipping sauces, like ponzu and scallions
* Beverages & cups (white wine, beer, maybe champagne?)
* Corkscrew / bottle opener
* Napkins, plates, forks
* Bread
* Tablecloth
* Wetnaps (it gets really messy)
* Sunscreen/hats/parasol for the kids -- the area is not shaded
* Other stuff to grill -- veggies? meat?
* Brie (optional), to melt on the barbecued oysters; Eli & Margarita's invention; it is pure decadence.