Sunday, December 25, 2005
Peace on Earth
Merry Christmas, everyone!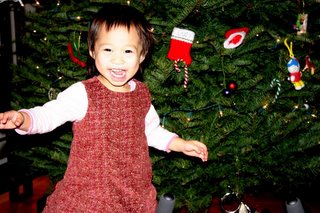 See pictures from Christmas festivities
here
.
Thursday, December 08, 2005
First trip to New York City
It's official: I'm a city person like my
parents
. I loved taking the subway and waving "hi" and "bye bye" to it, watching the people hustle and bustle, yelling "bus!" at each one whizzing by, exploring evidence from a season that I see little of (i.e. snow), and taking in all the lights, sounds and energy of a big city.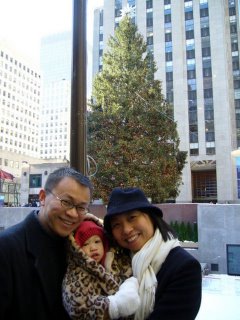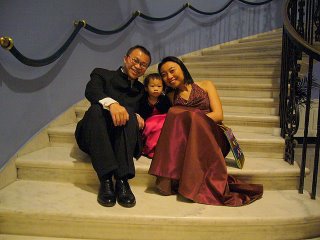 I even enjoyed dressing to the nines! I didn't notice everyone cooing at how cute I looked because I was too enamored by the string trio at the wedding reception.
Check out this video of me hosting my own "after party":
See more pictures from the trip
here
.
Friday, December 02, 2005
Second Weekend without Mommy
Although I missed Mommy when she was
gone this weekend
, my friends Elmo, Baby, and Lamb kept me company. Here we are playing "Cheese!". I started singing a new song, "Hello Hello Hello!" (the Music Together "Hello" song) while strumming my violin which you can see in my hand, and had good bonding time with Daddy. I think I even understood Daddy when he explained the concept of Mommy returning the "day after tomorrow."