Friday, March 25, 2005
Pick the best breakfast cereal
I thought
Dr. Mikin's website
was useful in listing which cereals were the most nutritious for you. I was surprised to find Special K and Total to be on the Not Recommended list because they are made with refined grains. Check it out.
Tuesday, March 22, 2005
MBA moms give advice
I went to great panel organized by the
AWM
(Association of Women MBAs) about MBAs managing motherhood and their careers. Some takeaways from the panel:
- There is no such thing as the "supermom"; those claiming to be are just staying afloat or on the road to antidepressants
- Your kids will always remember (and remind you) if you missed a key important event (school play, soccer game, etc.) but you will not remember what project you were working on which caused you to miss it; therefore, it is worth rearranging everything to ensure you make it
- it is up to you to define and shape your career the way you want it to be
- women MBAs must create a paradigm shift and change the way the workplace support women from bottom up
- have no shame in asking and getting all the help you can get and hire it if you have to (cook, housecleaner, gardening, camp counselor, etc.); note: it is generally worth paying someone to do those chores to give you more leisure time; see
this calculator which calculate the value of your time
if you need convincing
- although it is nice to be home in the baby's beginning, it is also good to be home for the kids when they are older, because they'll remember that you were there for them and you can better help them through increasingly complex issues
- It is impossible to work a 60+ hour week and be a decent parent
- Find a job with a short commute; that time saved makes all the difference
- Have a network of support that you can fall back on, i.e. a list of babysitters that you can call
- You will always feel guilt; that's just a fact from being a parent and wanting balance
- Be good to yourself and forgive yourself; you're only human and you will make mistakes
- train your husband to help you as much as possible - this means splitting the chores 50-50
- when your kids are old enough (7th grade?), give your child a cell phone so that they can always reach you (or family/friends) anywhere anytime
- be extremely organized; keep home and work calendars up to date and constantly watch calendars
- you will have a shift in priorities and you may have to sacrifice what level in the corporation you're in to get the flexibility you desire
- you should be creative in your career and not just consider corporate type careers
- your career will always be there but your kids will never be kids forever (and they grow up so fast)
- work on minor projects for friends or volunteer if you want to keep your skills fresh
- sometimes the perfect mom is not perfect; it's just the "good enough mom"; if you take care of yourself, exercise, eat healthily, work (as many hours as you want) and are happy, that will be a good example to your kids (not someone who runs themselves ragged for the sake of their kids)
- children can't be protected from all sacrifices and disappointments, and they will be better at dealing with these in the future if they are not overprotected from them
- You will NEVER regret having kids, but you might regret never having any
Monday, March 21, 2005
Isabella's favorite books and other book recommendations
Isabella loves flipping through books, and having me read to her as she sits on my lap. Here is a list of her favorites at 14 months (does not include fabric books):
Goodnight Moon
(infant)
Where is Baby's Belly Button
(infant)
Brown Bear, Brown Bear, What Do You See?
(infant)
The Very Hungry Caterpillar
(infant/preschool)
Riggeldy Jiggeldy Joggeldy Jam
(infant/preschool)
Good Night Gorilla
(infant)
Pat the Bunny
(infant)
Here are some additional book recommendations that I received:
Tenderness and warmth
- for attachments and understanding
The Runaway Bunny
(preschool)
Guess How Much I Love You
(preschool)
We're Going on a Bear Hunt
(preschool)
Can't You Sleep, Little Bear?
(preschool)
The Story of Ferdinand
(4-8)
Hypnotic and Somewhat Addictive
- read over and over again; good for language development
But Not the Hippopotamus
(infant/preschool)
Mr. Grumpy's Outing
(preschool)
Lilly's Purple Plastic Purse
(4-8)
The Napping House
(4-8)
Leaves Rooms for Possibilities and Engages Imagination
- narrative is evocative, not literal
The Snowy Day
(preschool)
Madeline
(4-8)
Harold and the Purple Crayon
(4-8)
The Amazing Bone
(4-8)
Solomon the Rusty Nail
(4-8)
Captivating Art
- for pre-literate kids, they're paying more attention on the art, not words.
The Three Pigs
(preschool)
The Polar Express
(4-8)
Jumanji
(4-8)
The Story of Babar
and other books in the Babar series (4-8)
Mosque
(9-12)
The Tree of Life
Dark and Mysterious
Where the While Things Are
(preschool)
John Henry
(4-8)
Alexander and the Terrible
(4-8)
Horrible, No Good, Very Bad Day
(4-8)
Bridge to Terabithia
(9-12)
Some bestselling authors' favorites
Anything by Dr. Seuss, such as
The Cat in the Hat
(4-8)
Hitty: Her First Hundred Years
(9-12)
The Good Master
(9-12)
One-Eyed Cat
- (9-12)
Sunday, March 20, 2005
Isabella's essence
My friend
Josh
took this picture and I love it because it really captures Isabella's essence. See how content she is standing independently; she looks very satisfied at being so grown up. But yet she shows her silly youthful side - her pants slid halfway down her butt because they're too big for her, pant legs rolled up with one leg longer than the other, and her little belly snuggly tugging out her shirt.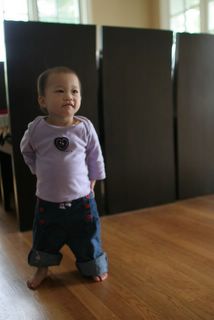 Monday, March 14, 2005
What is Montessori anyway
I am signing Isabella up for the infant/toddler program at a Montessori school 5 blocks away. It will be good for Isabella to interact with other kids and it's never too young to learn things. In fact, I think she'd enjoy the stimulation; it's a little different from whatever Mommy would do with her.

The goal of the infant / toddler Montessori program is to get them to learn how to do "practical life" activities and therefore contribute to everyday life. Everyone learns from the beginning things such as being polite (saying "please" and "thank you") and putting away their food. Some of the other activities are considered "work" that the children do when they become interested. So that could be learning to put on shoes, socks and jackets, wiping the table, watering the plants, preparing food, mopping the floor, etc. Since the children learn what interests them, the program encourages a love of learning. The teachers are there as guides in the infant community, but don't provide formal classroom training. The teacher observes the children to determine which new activities and materials she may introduce. The aim is to encourage active, self-directed learning and to strike a balance of individual mastery with small group collaboration within the whole group community.

She starts in April so we'll see how it goes!

Sunday, March 13, 2005
Car Count Update
An update to our running Car Count: (See history
here
.)
March 2005 - officially sold the Forester (remember: it's the reason the Audi was bought in October)
Car Count: 5
Stay tuned: The 6 month mark is coming up, and rumors abound that
another
new car is in our near future... the Lexus hybrid SUV. But, Rich has promised that we will only have 3 "daily" driver cars, which means we will get rid of one. Which one will stay? Which one will go? Which one will be the survivor???
Sunday, March 06, 2005
I take a day off
OK, now my doctor has mandated that I take a day off. So while Rich took care of Isabella, I went to the Russian River in Sonoma Valley to go barrel tasting with some girlfriends. The night before I went out to dinner and movie with my friend Dinara. We watched "Milionaire Dollar Baby" (not exactly the lightest feature out there; I am not sure it helped my stress level!) I didn't worry about the baby at all. And I was relieved to feel like a normal person again, having adult conversation, without having to worry about a baby clinging to my leg. It was a break much needed.

Anyway, the next day Isabella had a 103.5F fever and was diagnosed with clinical pneumonia (respiratory infection). Any correlation??!! The timing is too funny.

Saturday, March 05, 2005
No asthma please
I really hope that Isabella doesn't have asthma. Her doctor says she will be more prone to "complications from colds" as a result of getting RSV, a nice way to say that she might have asthma / wheezing every time she gets a cold. This is due to inflammation in the airways in a baby so little.
Dr. Sears
has a very thorough writeup of what to do for various asthma cases.
Infants don't always have audible wheezing so it is important to see how fast they are breathing. It is normal for infants to take 30-40 breaths per minute. Anything over should be monitored/treated for wheezing, and over 60 breaths is an emergency!
Asthma coughs are usually due to constriction of airways, so cough medicine doesn't work. Only a bronchodilator like albuterol does. If you are dealing with just a mucousy cough, the key is to give something with guaifenesin, which loosens up the mucous and makes coughs productive. Anything with DM which suppresses coughs should only be used at night time if coughs disturb sleep.
The
Parents site
has a helpful breakdown of what all the coughs can tell you.